Sku:

CATEGO6

Vendor: Pets Journey
Catego Flea and Tick Control for Cats (6 doses) Over 1.5 lbs, 8 Weeks or Older
Once a month low volume application
Easy to apply and not greasy
Kills adults fleas, flea eggs,, flea larvae, ticks, and chewing lice.

Formulated specifically for cats and kittens.
A single dose effectively stop fleas infestation in cats and prevents re-infestation for one month.
For both indoor and outdoor cats and kittens.
Easy, spot-on application for cats.
Once monthly application.
Quick drying, non greasy.
Catego®was designed specifically for cats and only cats. It is the only product with the unique combination of these three proven active ingredients: Dinotefuran, Fipronil and Pyriproxyfen.
STEP 1 Remove applicator tube from package.

STEP 2 The cat should be standing or in a comfortable position for easy application.

STEP 3 Holding the applicator upright, pointing away from your face, place your thumb and index finger around the applicator tip under the large disk. With the other hand, grasp the stem of the applicator tip above the small disk. Press down firmly on the small disk until both disks meet, piercing the seal.

STEP 4 Separate the hair down to the level of the skin and slowly apply the product at the base of the cat or kitten's head (on dorsal aspect of the neck) until the applicator tube is completely empty, as shown in the diagram below. Avoid superficial application to the cat's hair. Do not get the product in your cat's eyes or mouth.

STEP 5 Discard the empty applicator tube as outlined in the Storage and Disposal section.

STEP 6 Repeat monthtly, or as recommended by your veterinarian.

- For optimal treatment, control and prevention of adult fleas, flea eggs, flea larvae, ticks and chewing lice year-round treatment is recommended.
View full details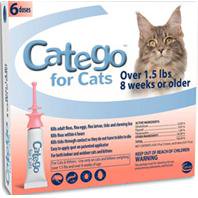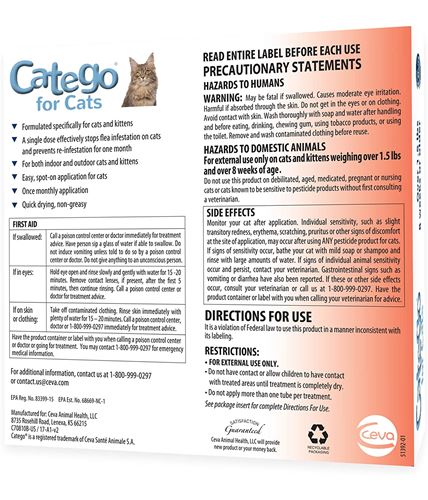 Catego Flea and Tick Control for Cats (6 doses) Over 1.5 lbs, 8 Weeks or Older