Sku:
Vendor: Pets Journey
Dasuquin Advanced Joint Health Supplement for Cats
Veterinarian exclusive formulation
Recommended for cats of any size
Great flavor and small amount

Dasuquin® Advanced for Cats is our most complete joint health supplement for cats. It contains the same trusted ingredients found in Dasuquin®, the #1 joint health brand recommended by veterinarians*. Dasuquin® Advanced for Cats is enhanced with a proprietary blend of ingredients to provide a multi-mechanistic approach for supporting your cat's joint health. Dasuquin® Advanced for Cats is offered in tasty sprinkle capsules to provide a simplified experience for supporting your cat's joint health.
Dasuquin® Advanced is offered in tasty and convenient sprinkle capsules. Simply sprinkle the capsule powder over cat food or mix in.

If your cat eats dry food, the food may be moistened with a small amount of water so that the powder sticks. Alternatively, the contents of the capsules may be mixed with a small amount (e.g., tablespoon) of wet or moist food to ensure your cat eats the entire amount.

Capsules may be "pilled" if more convenient

- Under 10 lbs Give 1 capsule daily during the initial period (4-6 weeks) then 1 capsule every other day

-Cats 10 and over, on Initial 4-6 weeks Give 2 capsules (sprinkle capsules per day) After Initial 6 weeks, sprinkle 1 capsules per day
Each sprinkle capsule contains:

- Glucosamine Hydrochloride 99%150 mg

- Sodium Chondroitin Sulfate100 mg†

- Proprietary Blend: Avocado/Soybean Unsaponifiables (ASU), Boswellia serrataextract (containing acetyl-11-keto-boswellic acid [AKBA]), and green tea extract (EGCG) 28 mg

- Manganese (as manganese ascorbate)1 mg

† Contains up to 10% moisture.

Other Ingredients: FD&C Blue no. 1, FD&C Yellow, Gelatin, Magnesium Stearate, Mixed Tocopherols, Natural Flavor, Silicon Dioxide, Soy Protein Isolate, Titanium Dioxide.
View full details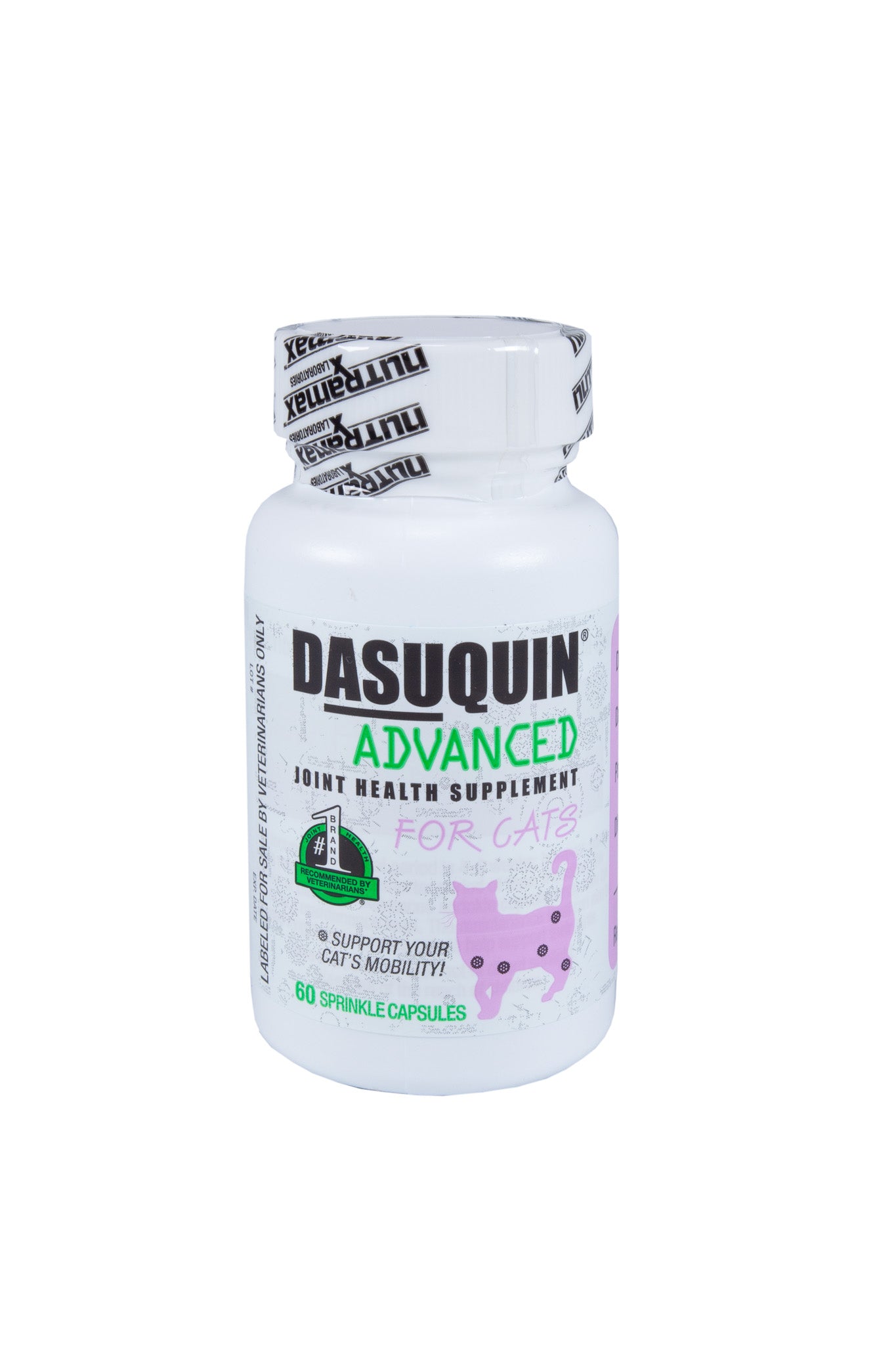 Dasuquin Advanced Joint Health Supplement for Cats