Sku:
Vendor: Pets Journey
Pala-Tech Calming Extra Petite Soft Chews
All-natural supplement to calm a pet's behavior
Recommended for dogs and cats.
Help soothe the pet during stressful situations and minimize nausea
100% Palatability Acceptance Guarantee
Calming Extra Soft Chews

(Thiamine Mononitrate, Dried Colostrum & L-Theanine)

An all-natural dietary supplement specifically formulated with researched ingredients to generate calm behavior in dogs and cats during times of environmental stress. In addition, the next generation colostrum isolates contain a unique bio-active peptide to aid in the effective management of the symptoms of nausea caused by stressors such as travel and motion sickness, anxiety or other factors. Consider using Calming Extra for some of these types of stressful situations:

• Loud noises, such as thunderstorms, fireworks, etc.

• Traveling to the groomer, veterinary hospital, etc.

• Boarding, kenneling or being left alone

• Anxiety created by unexpected house guests, new pet or baby in the household, etc.

• Changes in the pet's daily schedule and routine Quick and reliable results:

• Calming behavior will be observed in about 20-30 minutes after dosing.

• Clinical effect will last 4-6 hours. Highly palatable and uniquely shaped soft chew dosage form will simplify dosing for pet owners.

• Petite Soft Chews are a square shape to entice cats to readily consume the chew and flavored with a real chicken flavor making it easier to administer the dose to cats and small dogs.

• Soft Chews are an oblong shape to differentiate this product from other soft chew formulas and flavored with an artificial roast beef and liver flavor to guarantee the pet will readily consume the product. Flavoring is actually a hydrolyzed soy protein, so safe to use with food allergic pets.

• Ensures complete consumption of the administered dose generating better clinical results.

There is no initial loading dose. Chews may be administered as needed and the dose can be increased 2-3X depending on the level of stressors.

• Active ingredients are evenly distributed throughout the chew, so accurate dosing based on body weight can be achieved.
Consider using Calming Extra for some of these types of stressful situations:
• Loud noises, such as thunderstorms, fireworks, etc.
• Traveling to the groomer, veterinary hospital, etc.
• Boarding, kenneling or being left alone
• Anxiety created by unexpected house guests, new pet or baby in the household, etc.
• Changes in the pet's daily schedule and routine
View full details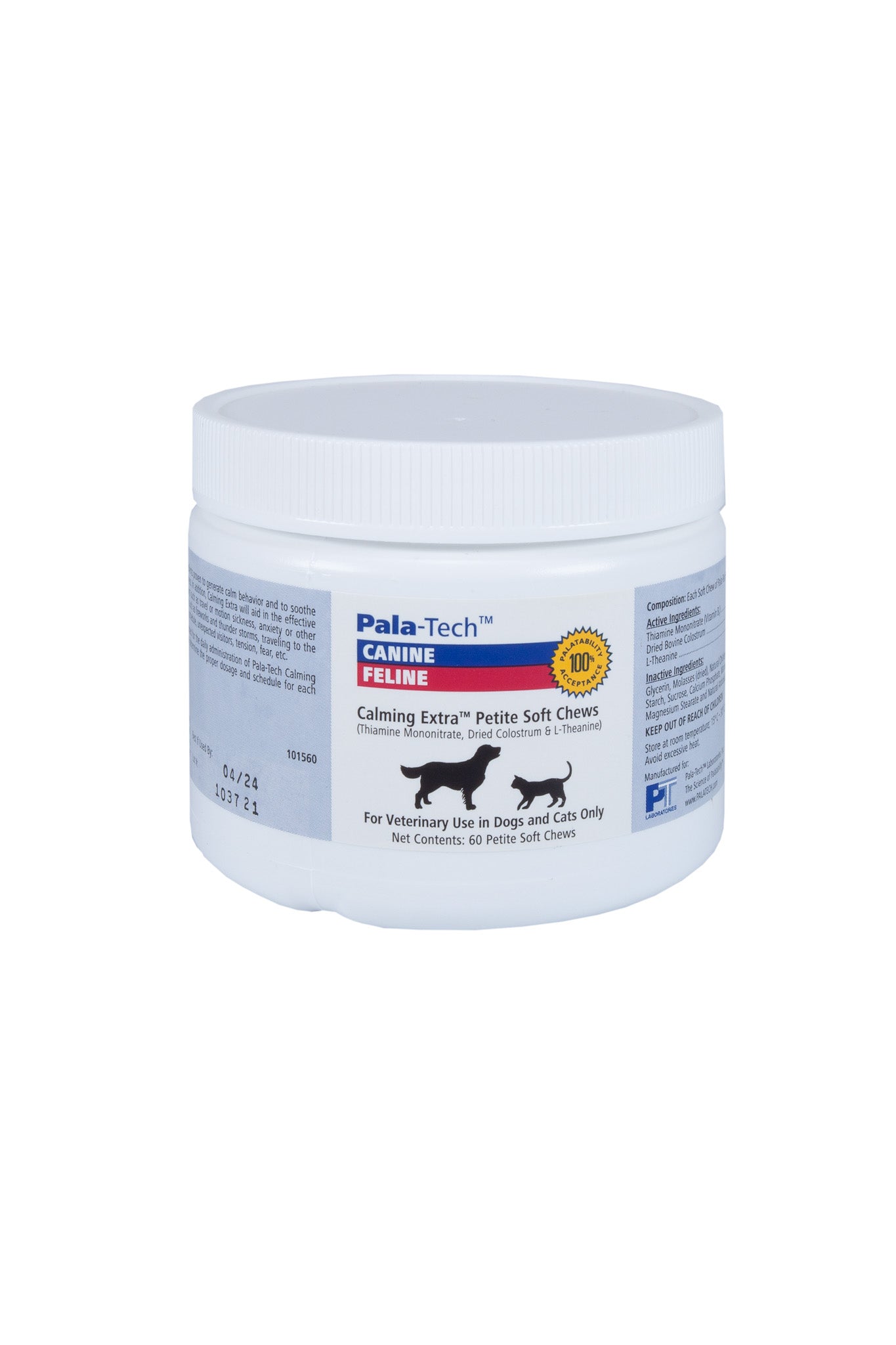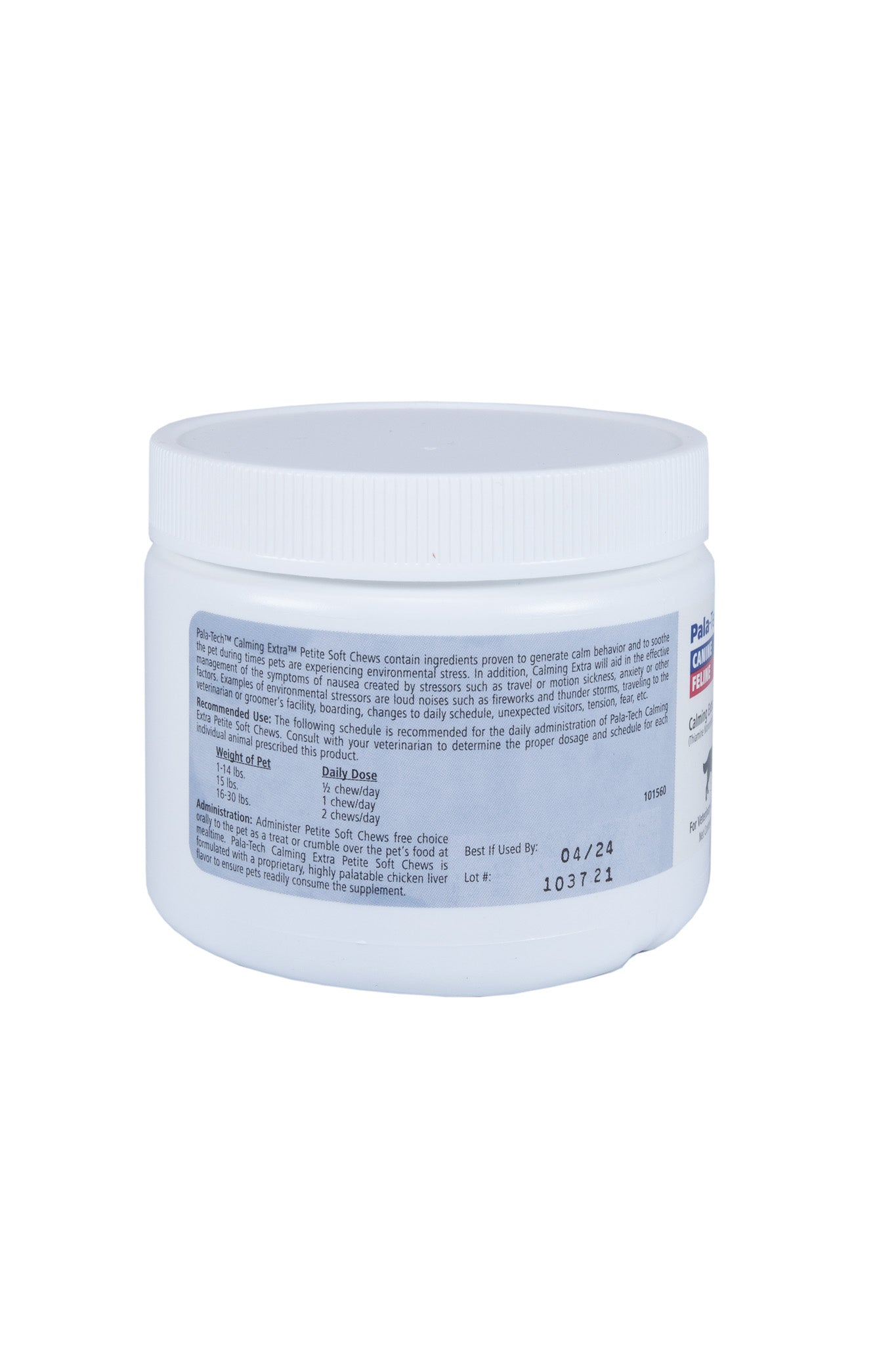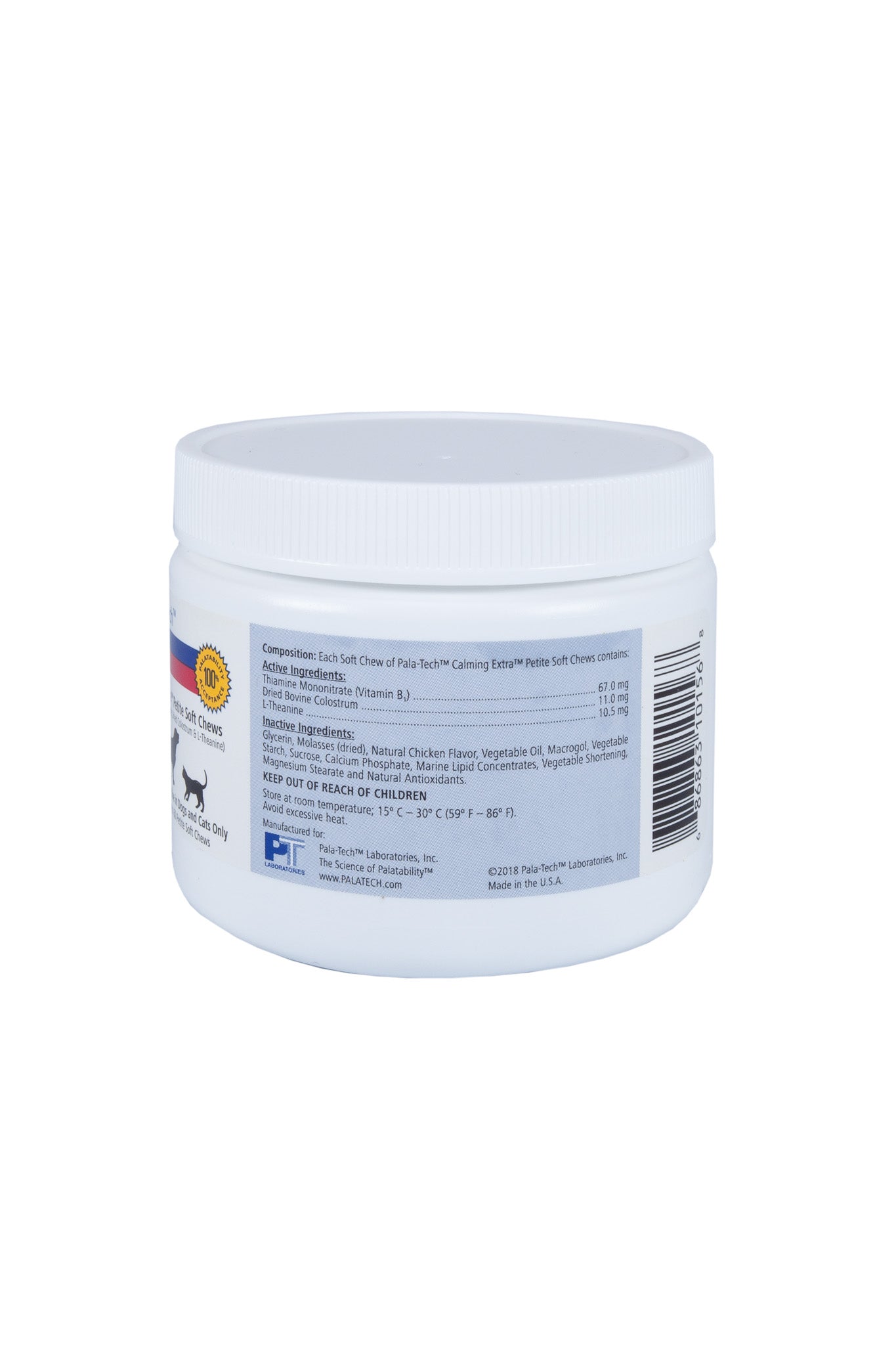 Pala-Tech Calming Extra Petite Soft Chews