Sku:
Vendor: Pets Journey
Pala-Tech Potassium Citrate Plus Cranberry Chewable Tablets (100 count)
Comprehensive urinary tract health supplement.
Palatable, chewable tablets for easy daily dosing.
Effective and affordable.
Potassium Citrate Plus Cranberry Chewable Tablets

(Micro-Encapsulated Potassium Citrate & Cranberry Extract)

For use in dogs and cats (granules only) as a dietary supplement containing ingredients known to aid in the prevention of calcium oxalate stone formation and to enhance urinary tract health.

Industry-only formulation to effectively manage urinary tract health in dogs.

• Formulation includes high dosage levels of potassium citrate to prevent the formation of calcium oxalate stones in the bladder.

- Increasing the citrate levels in the urine results in the calcium binding with the citrate instead of to oxalate, which is a desirable event, since calcium citrate tends to stay dissolved whereas calcium oxalate tends to precipitate out as a mineral deposit (i.e. stones).

- Supplemental potassium will increase urine alkalinity, which will further inhibit stone formation.

• Includes cranberry extract, which has been shown to enhance urinary tract health.

- Cranberry extract provides many health benefits for the urinary tract, but it will not acidify the urine pH.

• Safe and effective supplement for long term use. Highly palatable and more affordable than prescription diets. Chewable tablet simplifies daily administration for the pet owner.

• Administer the tablets free choice as a treat or crumble over the dog's food. - Tablets are bilaterally scored for accurate dosing. - The active ingredients are evenly distributed throughout the tablet. Flavored with a proprietary, highly palatable artificial roast beef and liver flavor (flavoring is actually a hydrolyzed soy protein), so dogs will readily consume the tablet.

• Convenient dosage form for dog owners to administer daily.

• Improved client compliance for daily dosing resulting in better clinical results and client satisfaction.

• Safe to use in dogs with food allergies…does not contain any animal proteins. Specifically formulated to deliver these key ingredients for maximum clinical benefit. Each tablet delivers:

• Potassium Citrate – 680.0 mg • Cranberry Extract – 113.3 mg Active ingredients are micro-encapsulated to improve palatability and enhance product stability.
Recommended dosage schedule:

• Dogs: Administer 1 tablet per 20 lbs body weight every 12 hours.

Dosage may be adjusted to maintain a urine pH between 7.0 and 7.5.
Each tablet delivers:
• Potassium Citrate – 680.0 mg
• Cranberry Extract – 113.3 mg

See package for full detail.
View full details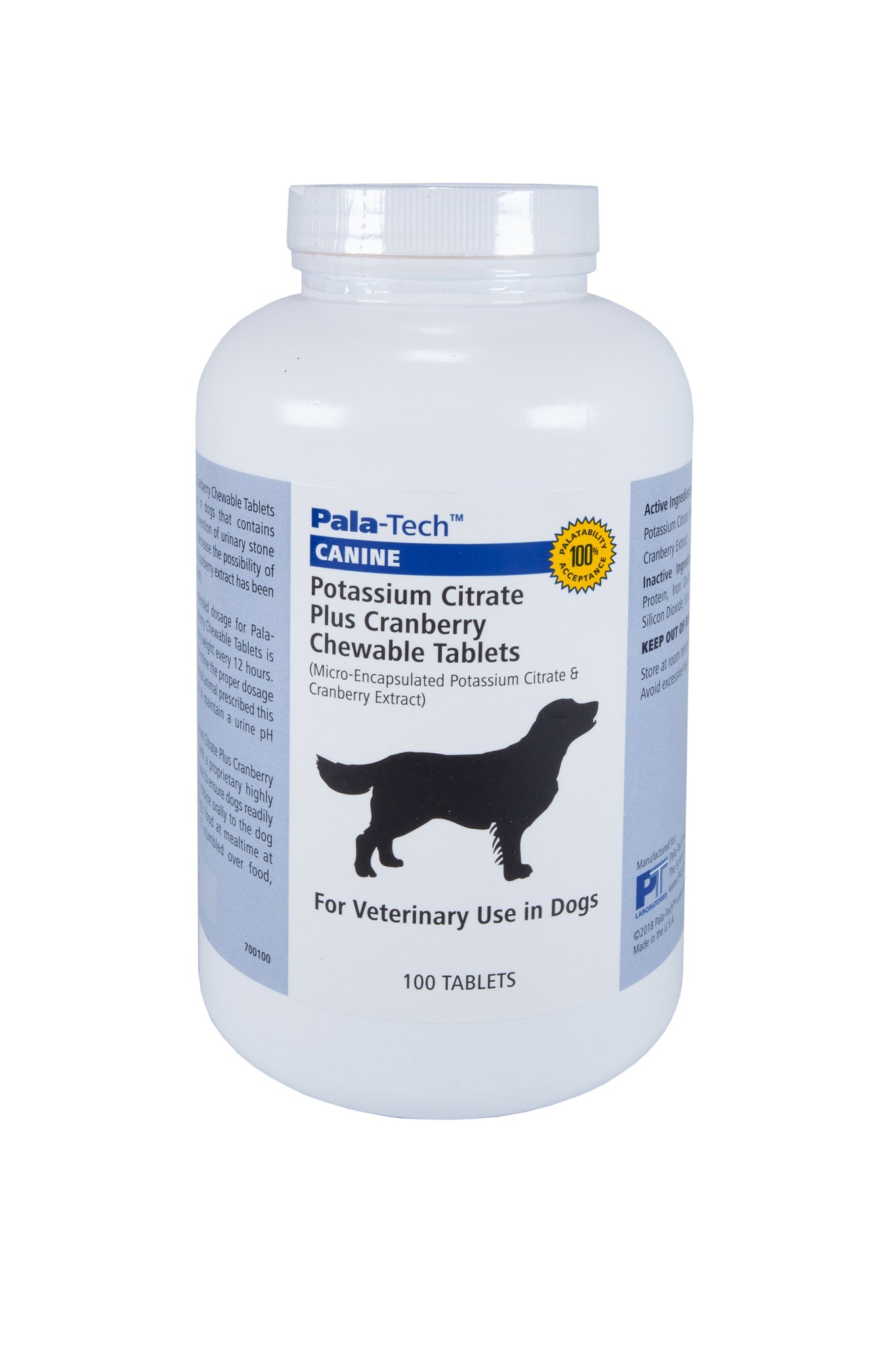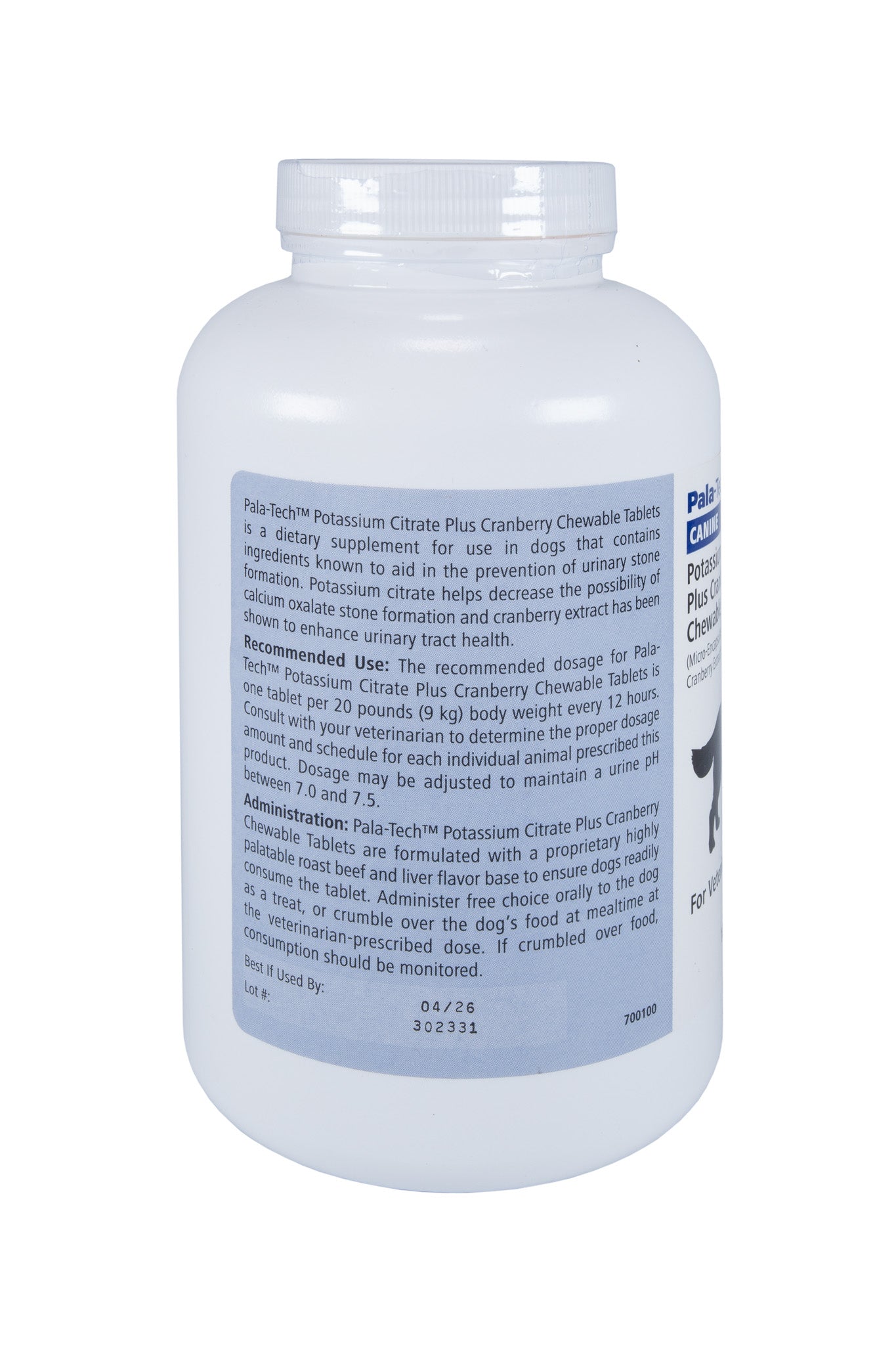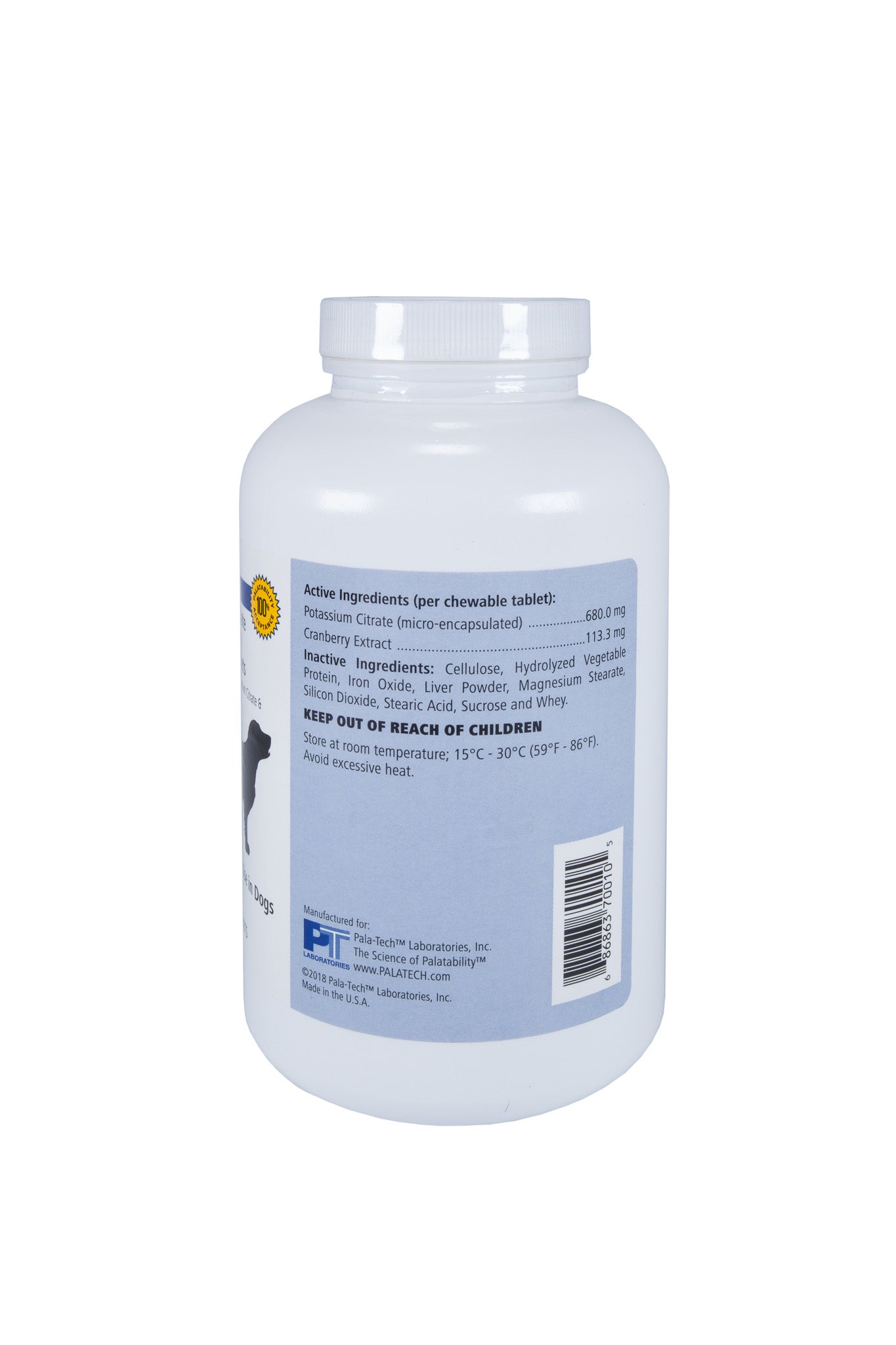 Pala-Tech Potassium Citrate Plus Cranberry Chewable Tablets (100 count)