Sku:
Vendor: Pets Journey
PalaTech Canine/Feline Forsight Petite Soft Chews
Comprehensive eye/vision health supplement that also manages/eliminates tear stains.
Recommended for dogs and cats.
100% Palatability Acceptance Guarantee
Industry-first supplement delivering multiple benefits
for your pet's eyes
ForSight™ Petite Soft Chews (Vision and Tear Stain Supplement)

A revolutionary ocular health supplement formulated to deliver key ingredients beneficial for overall eye health function and longevity, while also helping to eliminate unsightly tear stains from the inside out.

Natural dietary supplement formulated to deliver the key ingredients (i.e. carotenoids) to protect and maintain vision and overall eye health. In addition, includes ingredients to help manage or eliminate tear stains from the inside out. Carotenoids are considered the foundation for excellent visual health and are primarily found in the red, yellow or orange pigments of fruits, vegetables and flowers. They are a super source of antioxidants and other benefits. Included are the following carotenoids:

• Lutein & Zeaxanthin – Both of these carotenoids are readily absorbed by pets and selectively accumulate in the lens and retina of the eye. Effective in preventing or slowing the progression of cataracts and retinal degeneration in animals. Included at the proper dosage levels for clinical effect.

• Bilberry Extract – A very powerful carotenoid that is a relative of the American blueberry. Sourced from the fruit of Vaccinium myrtillus, this ingredient contains an abundance of anthocyanosides, which are chemical compounds with powerful antioxidant and anti-inflammatory properties. Possibly improves night vision.

• Lycopene – A major carotenoid found primarily in tomatoes and watermelon. Has been shown to protect against cataract formation in vitro and in vivo. Demonstrated to be 100X stronger than Vitamin E as an antioxidant.

• Omega-3 Fatty Acids, Grape Seed Extract, Alpha Lipoic Acid, etc. included to provide additional benefits for the eye, such as anti-inflammatory effect, antioxidant protection to minimize oxidative stress, prevention of eye diseases, etc. Highly palatable soft chew dosage form simplifies daily dosing for pet owners.

• Flavored with an artificial roast beef and liver flavor to guarantee the pet will readily consume the product. Flavoring is actually a hydrolyzed soy protein, so safe to use with food allergic pets.

• Administer as a daily "treat" to strengthen the human-animal bond.

• Ensures complete consumption of the daily dose generating better clinical results. Recommended dosage schedule:

• Petite Soft Chews – 1 chew/15 lbs. body weight daily.

• Soft Chews – 1 chew/40 lbs. body weight daily
Recommended dosage schedule:
• Petite Soft Chews – 1 chew/15 lbs. body weight daily.
• Soft Chews – 1 chew/40 lbs. body weight daily.
Carotenoids are considered the foundation for excellent visual health and are primarily
found in the red, yellow or orange pigments of fruits, vegetables and flowers. They are a super
source of antioxidants and other benefits. Included are the following carotenoids:
• Lutein & Zeaxanthin – Both of these carotenoids are readily absorbed by pets and selectively
accumulate in the lens and retina of the eye. Effective in preventing or slowing the progression
of cataracts and retinal degeneration in animals. Included at the proper dosage levels for
clinical effect.
• Bilberry Extract – A very powerful carotenoid that is a relative of the American blueberry.
Sourced from the fruit of Vaccinium myrtillus, this ingredient contains an abundance of
anthocyanosides, which are chemical compounds with powerful antioxidant and
anti-inflammatory properties. Possibly improves night vision.
• Lycopene – A major carotenoid found primarily in tomatoes and watermelon. Has been
shown to protect against cataract formation in vitro and in vivo. Demonstrated to be 100X
stronger than Vitamin E as an antioxidant.
• Omega-3 Fatty Acids, Grape Seed Extract, Alpha Lipoic Acid, etc. included to
provide additional benefits for the eye, such as anti-inflammatory effect, antioxidant
protection to minimize oxidative stress, prevention of eye diseases, etc.

See package for full detail,
View full details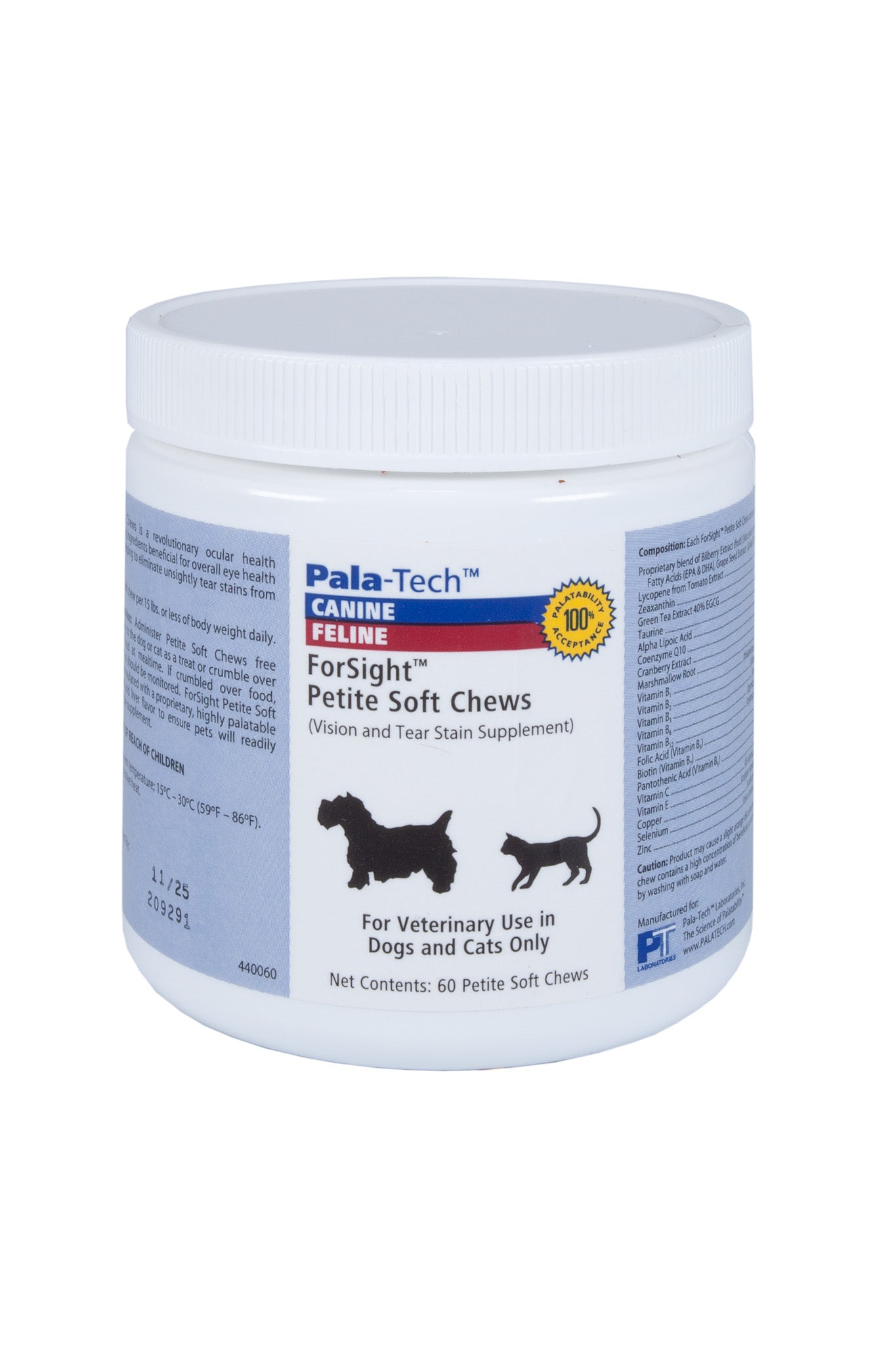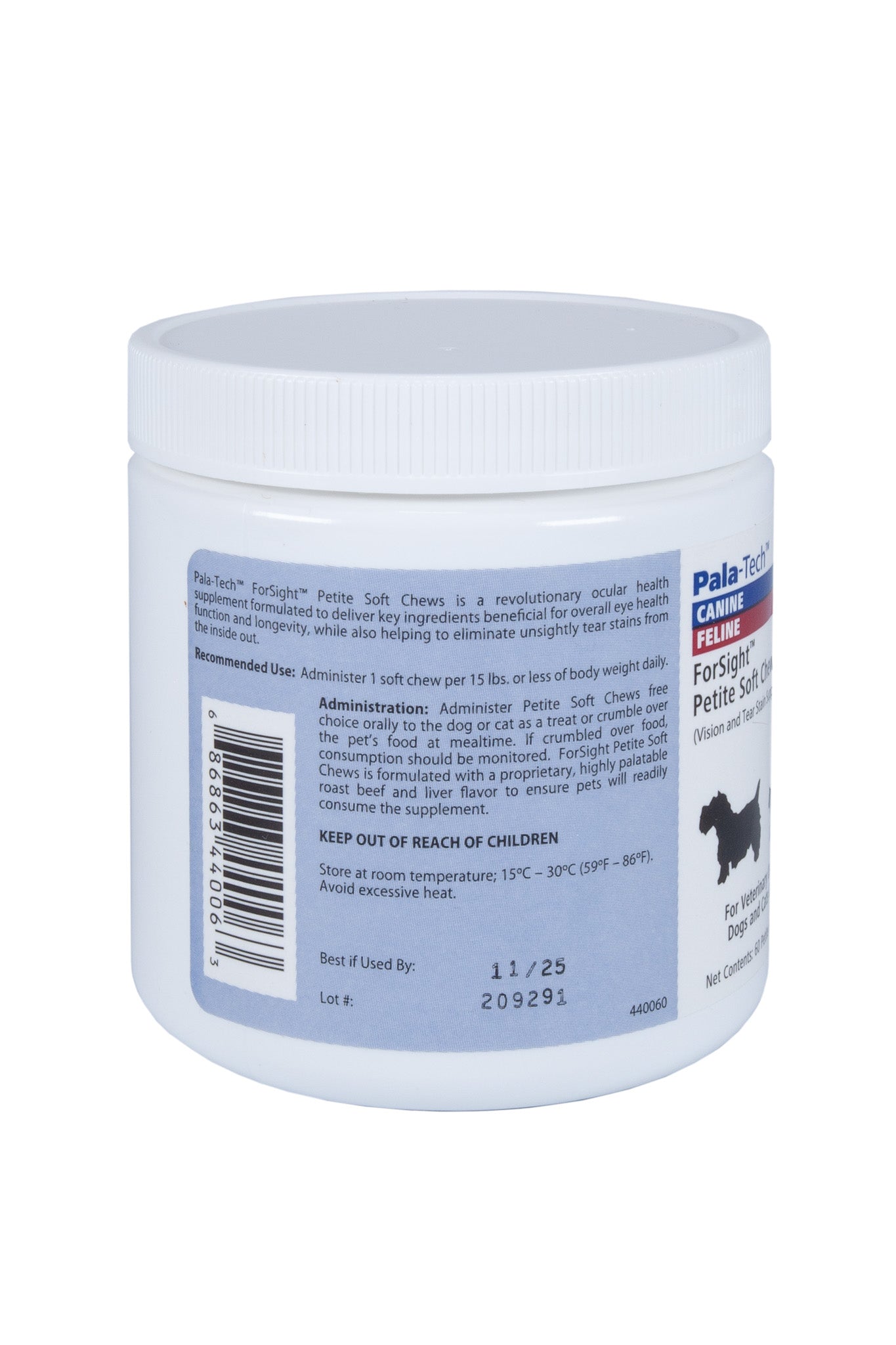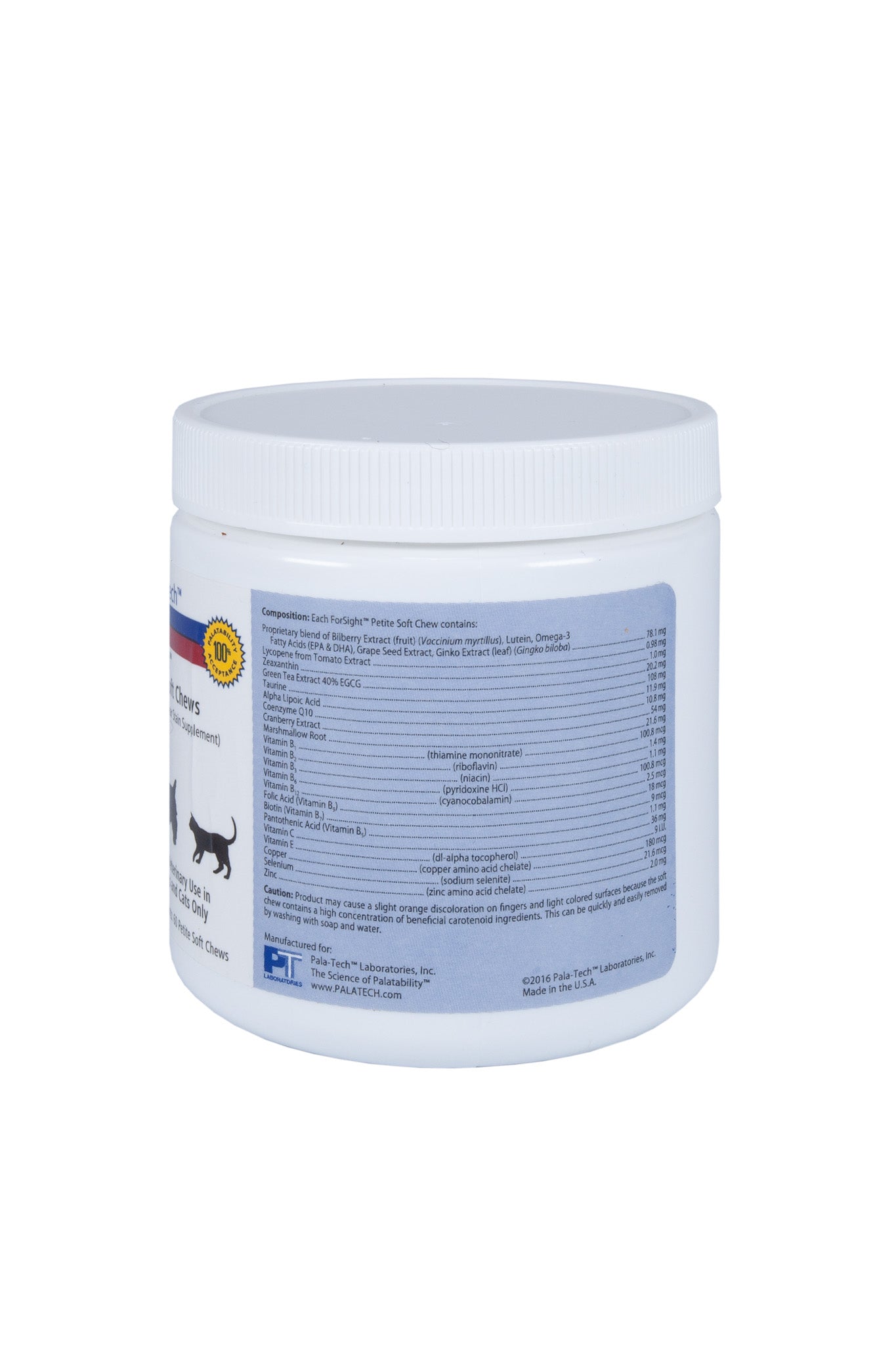 PalaTech Canine/Feline Forsight Petite Soft Chews