Sku:
Vendor: Pets Journey
PalaTech Feline Joint Health Granules
Veterinarian exclusive formulation
Recommended for cats of any size
Great flavor in small amount

A dietary supplement containing a combination of essential nutrients known to be beneficial to joints and muscles. Formulation will help replenish joint fluids and optimize muscle performance and strength. Formulated with a proprietary, highly palatable fish and liver flavor to ensure cats will consume the supplement

Musculoskeletal supplement formulated specifically for cats containing glucosamine hydrochloride, creatine monohydrate, methylsulfonylmethane (MSM) and other beneficial nutrients.

• Unique combination of essential nutrients known to be beneficial for maintaining healthy joints and muscles.

• Helps replenish joint fluids and will optimize muscle strength, support, endurance and performance.

• Will support and help maintain urinary bladder health by providing the building blocks for the cat to maintain the protective glycosaminoglycan layer

Granule dosage form is easily sprinkled on or mixed with food.

• Convenient dosage form for cat owners to administer daily.

• Easier and quicker to administer than gelatin capsules or conventional pills.

• Able to adjust dosage easily, if necessary, to deliver an accurate daily dose.

Formulation also delivers enriched levels of beneficial omega-3 fatty acids and includes L-Glutamine, which are excellent ingredients for use with all cats.

• Omega-3 fatty acid supplementation is supportive adjunct therapy for many clinical conditions.

• L-Glutamine is an amino acid found within muscle tissue. Supplementing with this nutrient will improve muscle strength and endurance. It also stimulates the cat's immune system and acts as a natural immune booster helping to keep the cat healthy.

Specially formulated to deliver the highest levels of these key nutrients.

Each 4 gram scoop delivers:

Glucosamine hydrochloride – 250 mg    Omega-3 Fatty Acids – 85 mg

Creatine monohydrate – 200 mg L-Glutamine – 50 mg 

MSM – 50 mg Taurine – 50 mg

 
Dasuquin® Advanced is offered in tasty and convenient sprinkle capsules. Simply sprinkle the capsule powder over cat food or mix in.

If your cat eats dry food, the food may be moistened with a small amount of water so that the powder sticks. Alternatively, the contents of the capsules may be mixed with a small amount (e.g., tablespoon) of wet or moist food to ensure your cat eats the entire amount.

Capsules may be "pilled" if more convenient

- Under 10 lbs Give 1 capsule daily during the initial period (4-6 weeks) then 1 capsule every other day

-Cats 10 and over, on Initial 4-6 weeks Give 2 capsules (sprinkle capsules per day) After Initial 6 weeks, sprinkle 1 capsules per day
Each sprinkle capsule contains:

- Glucosamine Hydrochloride 99%150 mg

- Sodium Chondroitin Sulfate100 mg†

- Proprietary Blend: Avocado/Soybean Unsaponifiables (ASU), Boswellia serrataextract (containing acetyl-11-keto-boswellic acid [AKBA]), and green tea extract (EGCG) 28 mg

- Manganese (as manganese ascorbate)1 mg

† Contains up to 10% moisture.

Other Ingredients: FD&C Blue no. 1, FD&C Yellow, Gelatin, Magnesium Stearate, Mixed Tocopherols, Natural Flavor, Silicon Dioxide, Soy Protein Isolate, Titanium Dioxide.
View full details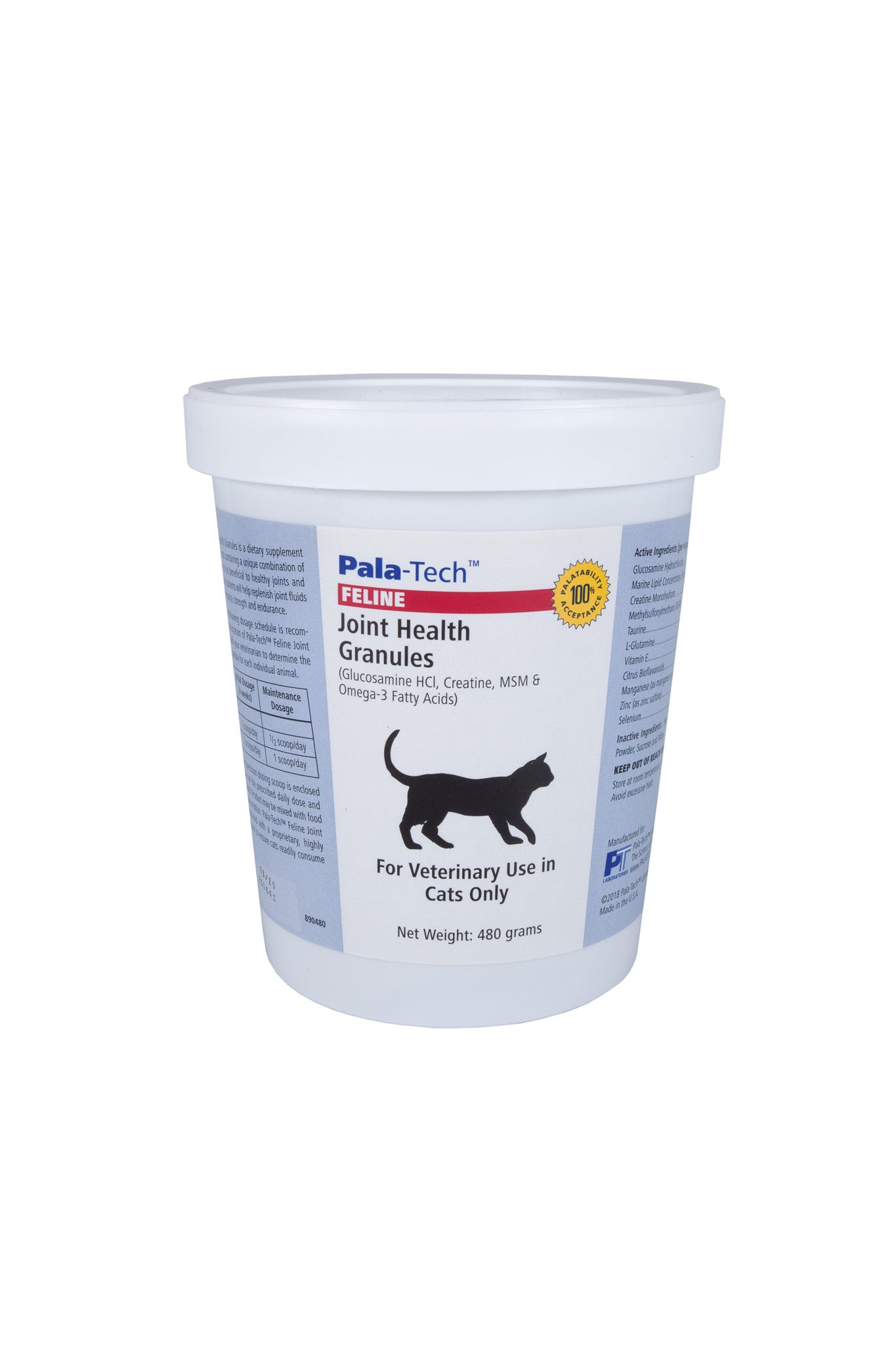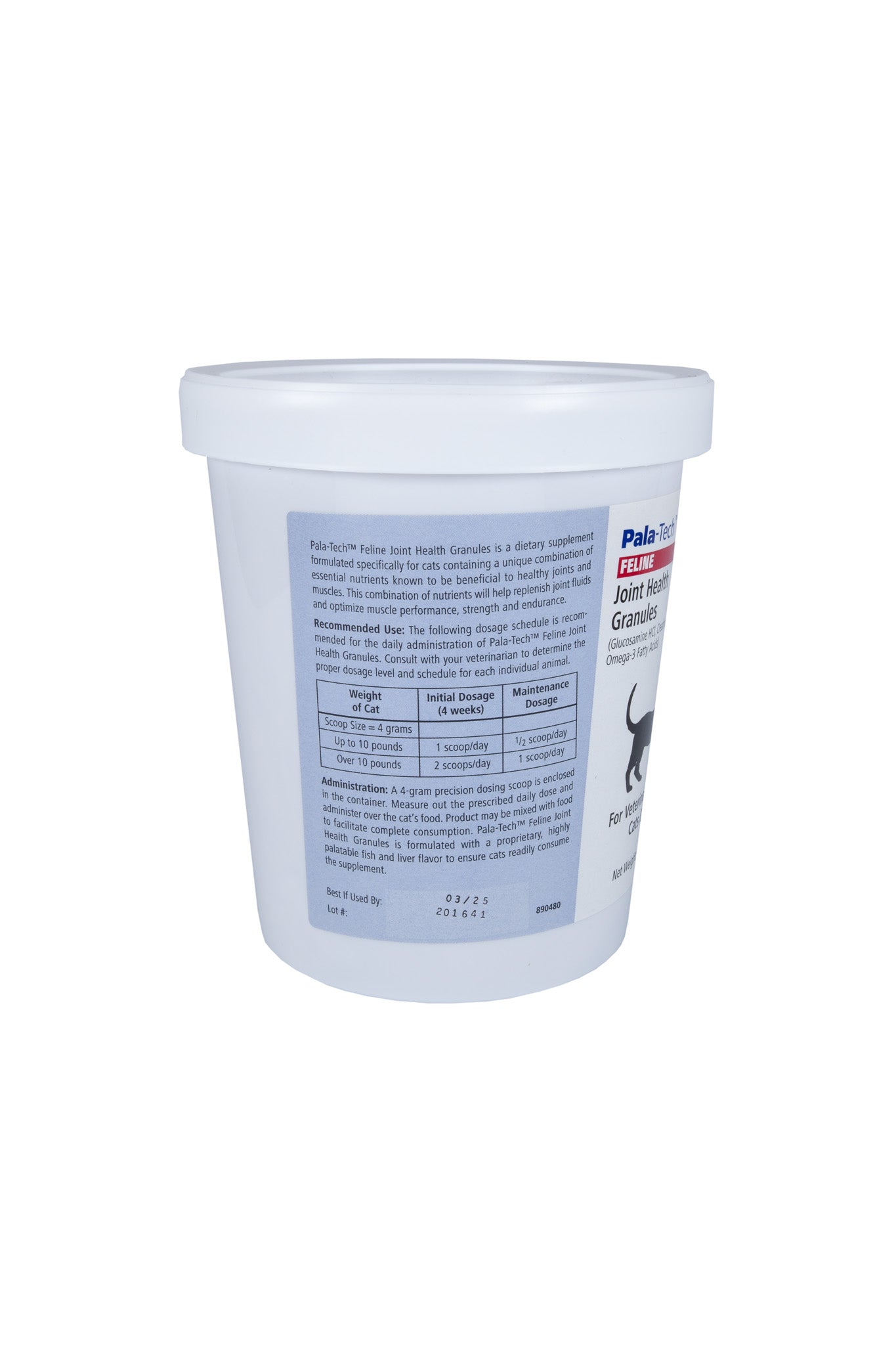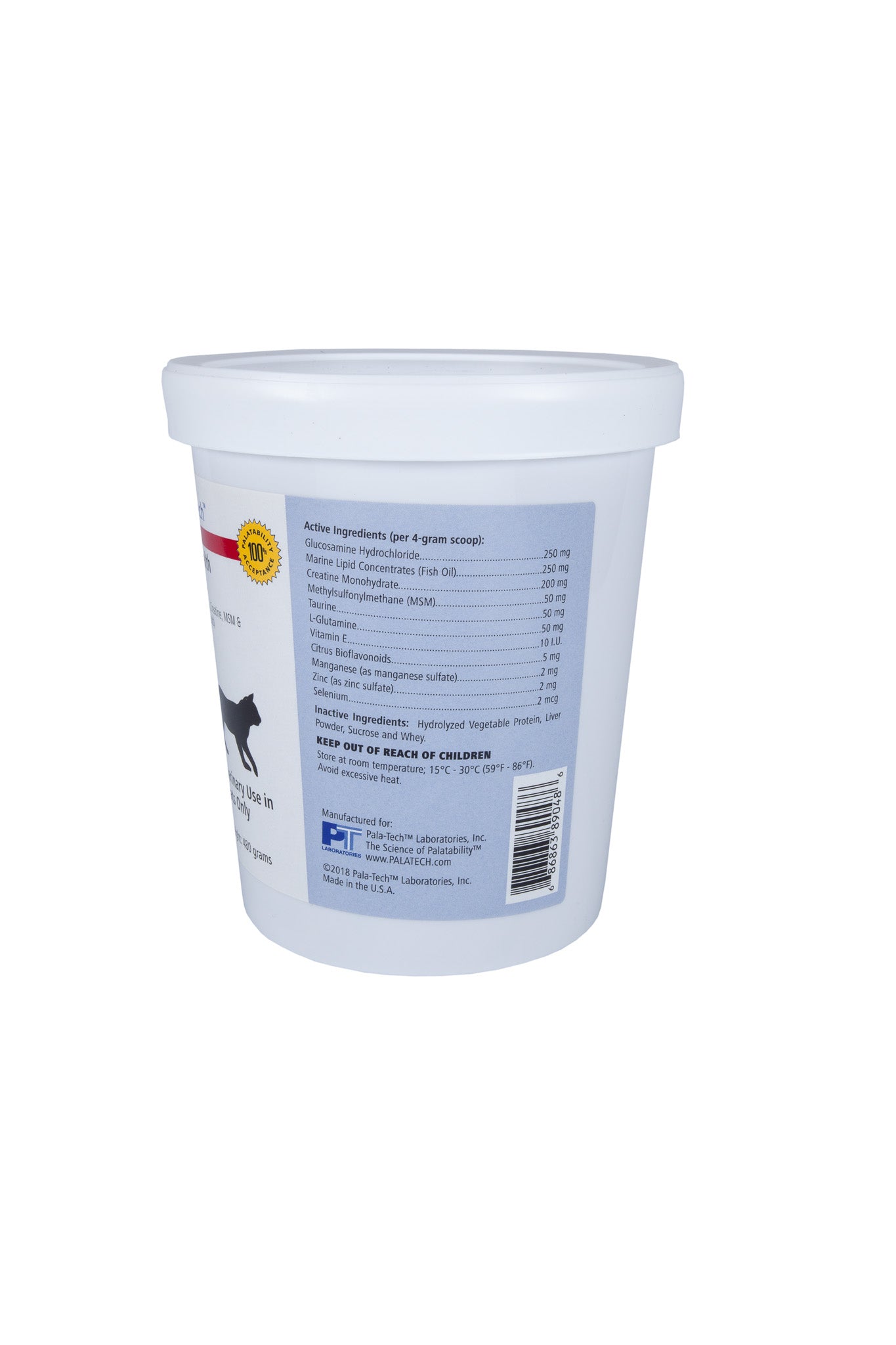 PalaTech Feline Joint Health Granules