Sku:
Vendor: Pets Journey
Tricky Treats Hydrolyzed Duck Flavor.
Veterinarian exclusive formulation
Recommended for cats of any size
Great flavor in small amount

Tricky Treats™ with MOS MAX®

(Highly Palatable Treat to Hide Medications)

A tasty and nutritious alternative to commonly used human foods (i.e cheese, hot dogs, peanut butter, etc.) for hiding pills, tablets and capsules when administering medication to pets.

Simplify daily administration of medication for pet owners. Improve dosing compliance for medicine to generate better clinical results.

Tricky Treats mask the smell and taste of medicine and can also be fed as an everyday soft and chewy treat for training, rewarding and pampering the pet.

Includes proprietary and industry- first MOS MAX® to enhance the pet's immune system and aid in normalizing the entire gut's microflora.

- MOS MAX is a prebiotic ingredient that includes multiple strains of yeast mannans (mannan-oligosaccharides) and also beta-glucans. Research has shown that fimbriated bacterial pathogen species readily adhere to the surface of yeast mannans, thereby interfering with the infection process. Therefore, fewer of these pathogens are available for intestinal colonization resulting in less infections. Yeast mannans and beta-glucans can help to positively modulate and condition the pet's immune activity, especially in the gut.

- The prebiotic activity from MOS MAX will help normalize gut microflora faster than a probiotic ingredient that has to survive, grow and colonize in sufficient numbers.

- Can be safely and effectively used during antibiotic therapy with potential additional beneficial outcomes. This unique combination allows the microbiome to adapt and provides a higher probability for a more effective response to the interaction with pathogenic bacteria that have shown possible adherence to yeast mannans, such as E. coli, Salmonella, Clostridium and Klebsiella. Enhanced benefits for the pet when using Tricky Treats to hide medications or use as a rewarding treat with potentially better outcomes for the pet and pet owner.
Dasuquin® Advanced is offered in tasty and convenient sprinkle capsules. Simply sprinkle the capsule powder over cat food or mix in.

If your cat eats dry food, the food may be moistened with a small amount of water so that the powder sticks. Alternatively, the contents of the capsules may be mixed with a small amount (e.g., tablespoon) of wet or moist food to ensure your cat eats the entire amount.

Capsules may be "pilled" if more convenient

- Under 10 lbs Give 1 capsule daily during the initial period (4-6 weeks) then 1 capsule every other day

-Cats 10 and over, on Initial 4-6 weeks Give 2 capsules (sprinkle capsules per day) After Initial 6 weeks, sprinkle 1 capsules per day
Each sprinkle capsule contains:

- Glucosamine Hydrochloride 99%150 mg

- Sodium Chondroitin Sulfate100 mg†

- Proprietary Blend: Avocado/Soybean Unsaponifiables (ASU), Boswellia serrataextract (containing acetyl-11-keto-boswellic acid [AKBA]), and green tea extract (EGCG) 28 mg

- Manganese (as manganese ascorbate)1 mg

† Contains up to 10% moisture.

Other Ingredients: FD&C Blue no. 1, FD&C Yellow, Gelatin, Magnesium Stearate, Mixed Tocopherols, Natural Flavor, Silicon Dioxide, Soy Protein Isolate, Titanium Dioxide.
View full details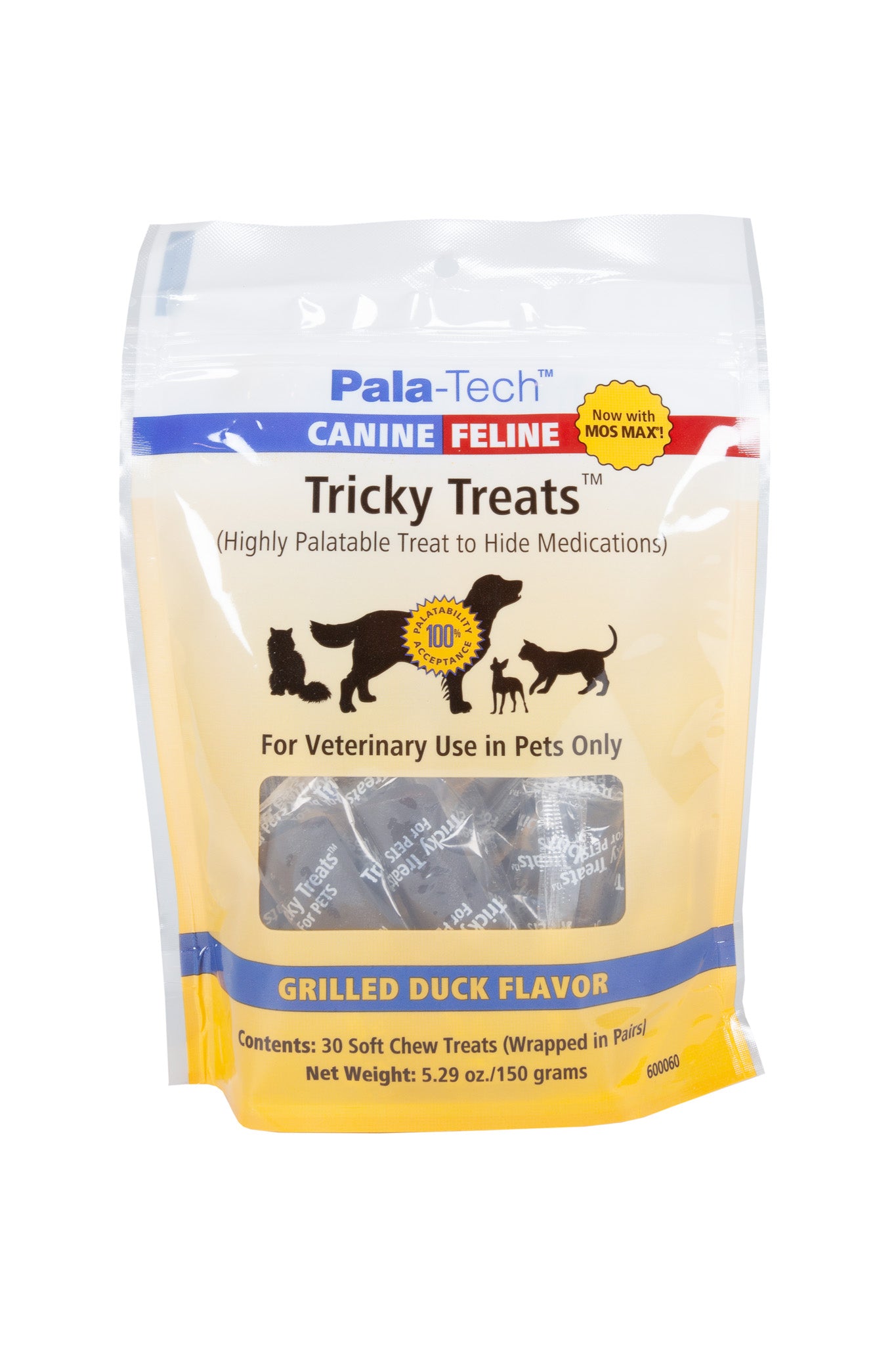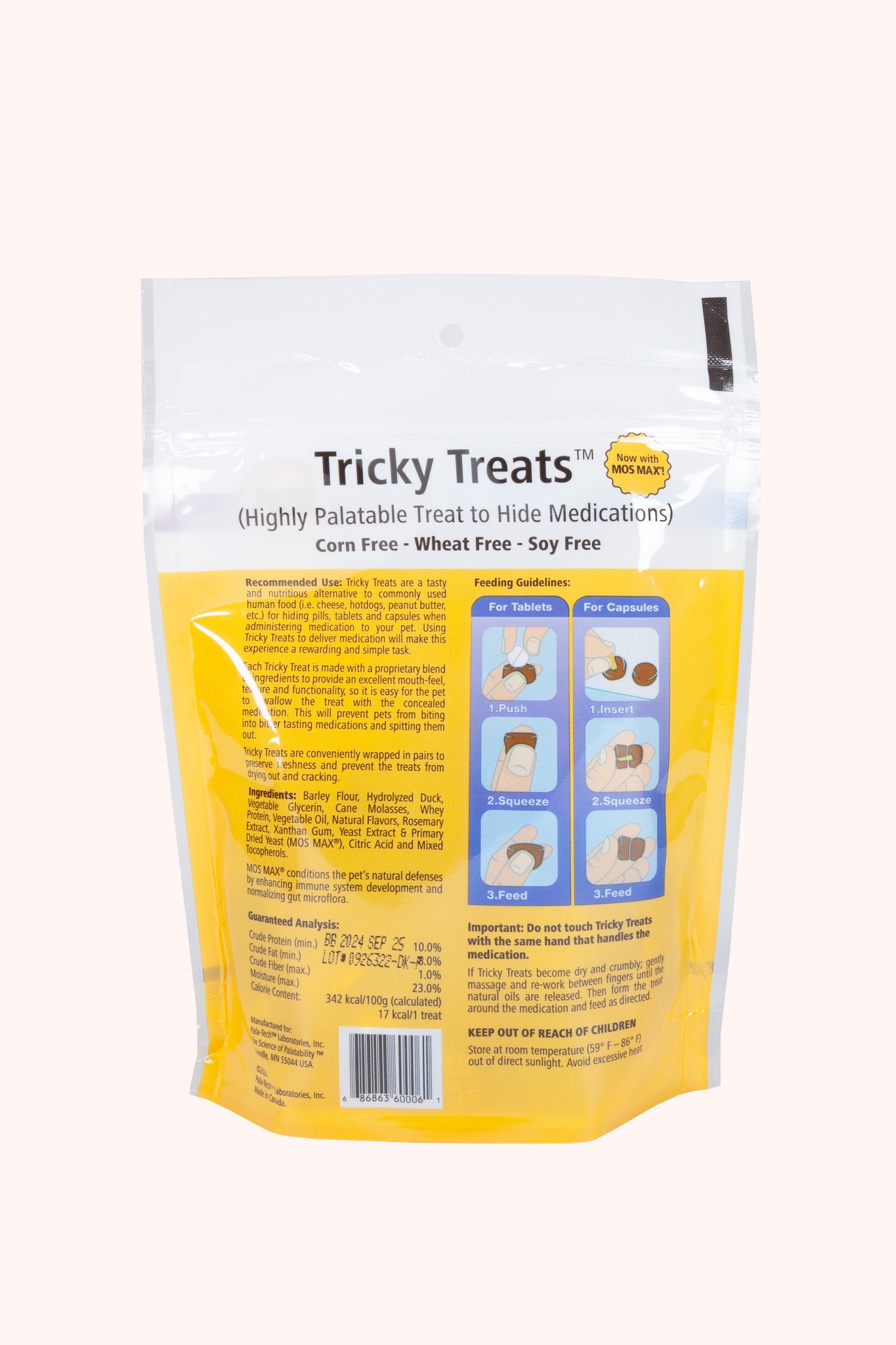 Tricky Treats Hydrolyzed Duck Flavor.